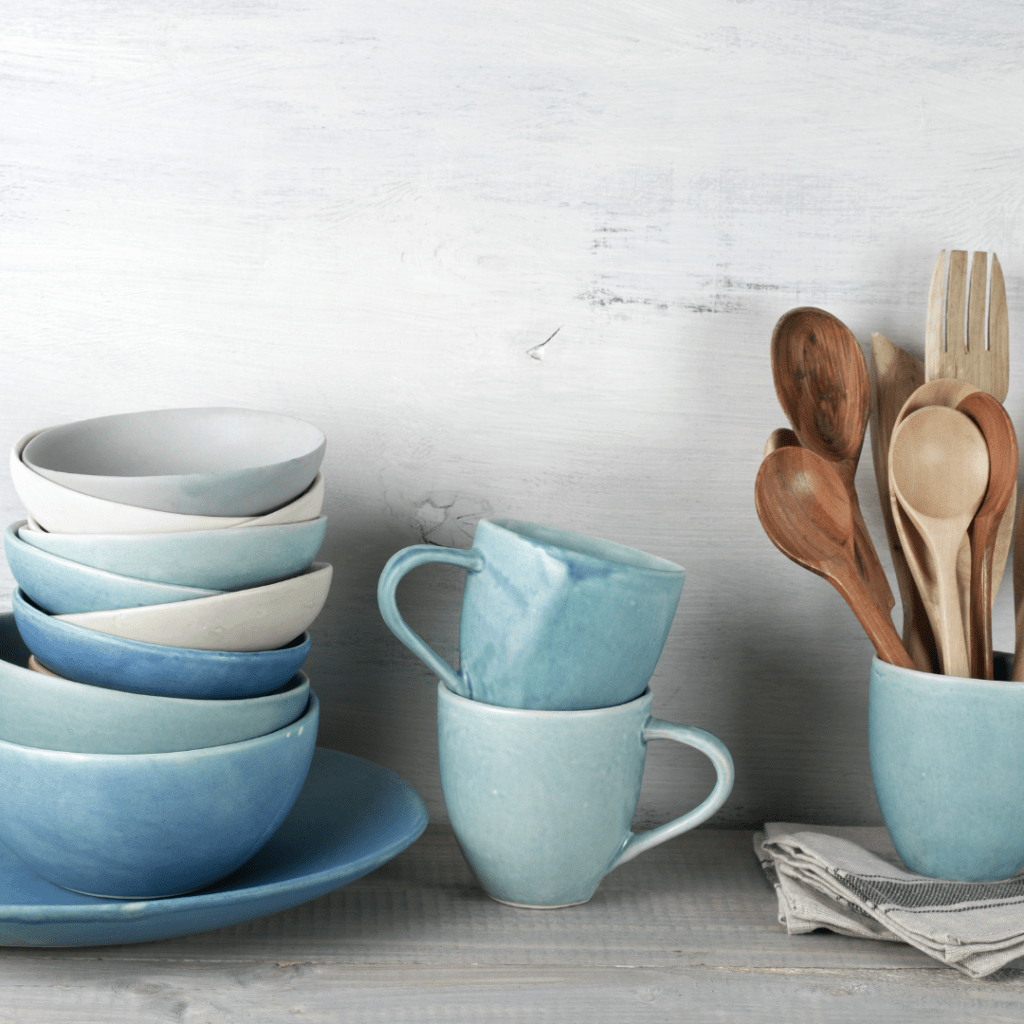 Picture your ideal kitchen. No, not as it is now, but how it could be!
What does your ideal kitchen look like? What does it feel like?
In my ideal kitchen, the counters are free of clutter, clean, and shiny. I can open any drawer, especially the junk drawer, without it getting jammed or cringing at the messy contents. Not only can I see what's in the pantry, but there's also room to add more groceries. The fridge smells fresh and I know there are no old leftovers lurking in the back. My kitchen tools are neatly stacked…and every single container has a lid!
I want you to visualize your ideal kitchen and then we're going to create it this week!
Tips and Tricks:
Before we start, here are some things to consider as we go…
Set up your kitchen to work for your lifestyle. If you bake a lot, keep those things handy. If you don't tuck them into the back corner or up into the top shelves (or the bottom if you're a short person like me).
Make a list of items you need to replace as you throw out the expired and old food as you go. Then plan a trip to the store to gather those essentials.
Make a list of items you want or need to stock up on and leave room for them. Or consider this crazy concept…an empty shelf?! A place for you to put new things you want to try or a new gadget you've been eyeing!
Consider replacing your condiments yearly. I like to know I'm serving fresh ingredients, even condiments.
Keep a sharpie marker in your kitchen to quickly add dates to the lids of items when you open them. You'll always know how long ago you opened it up.
Please don't put items into other containers. I know you've seen the mason jars filled with dry food and pretty labels lined up perfectly on Pinterest. Yes, it does look amazing. But listen to me here… the reality is, this isn't functional or sustainable. It's a lot of extra work for you. (Trust me, the last thing I ever want to do is make more work for you!)
SORT:
Just like any organizing project, we're going to follow the SORT Method. For each area, we will follow the same process: sort, offload, relocate & trash.
Sort the contents into categories
Offload anything we no longer need, find useful, or have too many of
Relocate anything that doesn't belong in this room to where it does belong
Trash any broken items, expired food, empty boxes, etc.
Day 1: Your Countertops
We're going to start with the countertops so you can create space to work on the rest of the kitchen. If you're anything like me, I know keeping your countertops clean and clear is a constant battle. It's just so inviting to put stuff on an open surface. And since the kitchen is the heart of any home, that's exactly where a lot of things land… on the countertops.
Clear off the counters, and put away food, kitchen tools, and dishes.
What about the mail and other stuff? Does it really belong in this room? Take all the things that don't belong in your kitchen and put them away.
Take this opportunity to wipe down and clean the counters while you've got them cleared off. Then you can decide what makes sense to actually leave out.
What belongs on the counter? What about the coffee pot that you use every morning? Of course, it makes sense to keep things out that you're using every day, like your coffee pot. But try not to use your counters to store things that you rarely use and let them take up your valuable counter space. Try to make a home where they can live until you need them. Possibly a dedicated shelf in your pantry or on a top shelf in your cabinet.
Going forward you'll be less likely to dump things on your clean counters. Especially once you see how nice and inviting it feels. Plus you'll have room to use your counters to prepare your meals!
Day 2: The Junk Drawer (and any other drawers)
Let's tackle the junk drawer (and other drawers) so you can determine what's in there and find what you need. First, pull everything out of the drawer and put it on the counter. Then follow the SORT method to go through the contents to sort, offload, relocate & trash.
Be realistic with yourself. Does it make sense to keep the stamps and address labels here? Would it be better to have them in the office with your envelopes and bills? Does the screwdriver belong in the garage? How many pens and pencils do you really need? Can you donate a few? Are there gift cards you should put into your wallet so you have them when you're out and will actually use them?
The junk drawer seems to be the place to keep all the things, but it can be organized and serve a purpose. If it is the best place to keep the extra batteries and there is enough room to comfortably hold all of them, then great, declare this their permanent (and only) home. Forever onward you will keep and be able to find them here.
If not, then maybe they should be stored in the office or hall closet or garage. Wherever it makes sense to you and you have room.
Once you have everything sorted, wipe out the drawer. Then you can replace the stuff you want to keep in there. I recommend using small containers or a sorter to put like items with like. This will hold things in place so they don't become mixed up and a mess again.
Then add some labels to the compartments for easy upkeep.
Use this same method on any other drawers in the kitchen. Are you're spoons, spatulas, and other tools a tangled mess? Go through one drawer at a time, sort them out into categories, donate what you don't need, and throw out any broken items. Then use dividers to keep everything in place as you put things away.
Great job getting the junk drawer (and your other drawers) in order and ready to use!
Day 3: Your Pantry
Now let's reorganize the pantry to create function and flow. Start by pulling everything out and follow the SORT method again: sort, offload, relocate & trash.
Throw out anything that is expired. Do you really want to risk getting food poisoning? I've had it and it's awful! Don't sweat throwing out a few dollars worth of food. Nothing lasts forever.
We all buy things we don't use. Donate anything you don't want that is unopened and unexpired food to your local food bank. Someone will really appreciate it and it won't go to waste.
Group similar food types together into basic categories on your counter: snacks, baking staples, canned goods, pasta, etc. Remember to leave room for growth. At different times of the year, you will have more of one category than another.
While you have everything cleaned out of the pantry, wipe down the shelves. Add baskets or bins to hold loose items, like snack-size chip bags, together, and add a label to the front. Then go ahead and put everything away, keeping the food categories together.
Put items that you want easily accessible, like snacks and daily use items, on the eye-level shelves. Store rarely used items up high or low depending on what works best for you. I'm short, so I keep the stuff I need on the lower shelves.
Day 4: Your Fridge
Today we're going to clear everything out of your fridge. You may want to tackle one shelf or drawer at a time.
Start with the easy stuff here. Again, throw out expired food.
Use a sharpie marker to add the date you opened the jar to the lids and to leftovers moving forward. Even if it's not expired, it may be pretty old. Consider replacing condiments on the first of every year.
Wipe out all compartments and shelves before replacing items. Change the height of shelves and placement of compartments if needed. Add a lazy susan and clear containers for more organization.
Restock and put away groceries, placing like items with like items. Label the shelves and containers to keep things in order.
Day 5: Your Containers, Cooking tools & Kitchenware
Now that you have experience with the SORT method, finishing up your kitchen should be a breeze. Take one cabinet or cupboard at a time and SORT It out.
Go through all your storage containers, cooking tools, and kitchenware. Determine which tools are your favorites and that you actually use. How many mixing bowls do you really need? Set aside items you rarely or never use and consider donating them. Replace any broken or worn-out items.
Match up lids with containers and determine how many you actually need. Can you pass along the excess to someone else? Are your towels tattered and Tupperware stained? Consider investing in new glass storage containers and fresh towels.
Tuck rarely used tools and small appliances in the back of your cabinets or on the top shelves. Or does it make sense to keep them in the basement or nearby closet if your kitchen is small?
Add sorting tools, dividers, and, of course, labels to keep things neat. Try not to stack more than 3 items for easy access.
Wrapping Up
Now that you've finished the work in the kitchen, let's go ahead and finish up the loose ends.
Drop off food donations to your local charity.
Go to the store for anything you need to replace and/or food you want to stock up on.
Pick up something nice for yourself. Maybe a new food item or that kitchen gadget you've been wanting to try!
And celebrate! You've done a great job and should reward yourself.
---